China vows to ban US officials who 'act abominably' over Tibet
Foreign ministry spokesman Zhao Lijian says Americans will face visa restrictions in retaliation for US sanctions
US Secretary of State Mike Pompeo attacked travel curbs on American visitors to region and accused Beijing of human rights abuses
Topic |   
US-China relations
China's foreign ministry said on Wednesday it would respond to a US travel ban on officials accused of limiting access to Tibet with similar curbs.
US Secretary of State Mike Pompeo said on Monday that the United States would restrict visas for officials who were found to be obstructing travel to the region by US diplomats, journalists and tourists.
Pompeo also accused Beijing of human rights abuses and said the US remained committed to "meaningful autonomy" for Tibetans and the preservation of their unique religious, cultural and linguistic identity.
"Access to Tibetan areas is increasingly vital to regional stability, given [China's] human rights abuses there, as well as Beijing's failure to prevent environmental degradation near the headwaters of Asia's major rivers," Pompeo said.
Chinese academics claim US has started cold war as tensions simmer over South China Sea, Xinjiang, Tibet, Hong Kong
8 Jul 2020
Foreign ministry spokesperson Zhao Lijian said on Wednesday that China "resolutely opposes" the US decision and in return will restrict visas for US officials who have "acted abominably" on related issues. He did not specify who would be affected or what form the restrictions would take.
"We urge the US side to stop using Tibet-related affairs to interfere with China's domestic affairs … and prevent further damage to Sino-US relations and cooperation," Zhao told a regular press conference.
Zhao said China had never restricted foreigners' access to Tibet, but has taken steps to "manage and protect" foreigners entering the region because of its unique geographical and climate conditions.
The US has also passed laws to target officials accused of human rights abuses in Xinjiang and Hong Kong, and the two countries have also clashed over issues ranging for trade practice to the South China Sea.
US imposes sanctions over Tibet and urges Beijing to release outspoken professor Xu Zhangrun
8 Jul 2020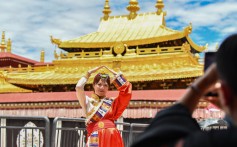 On Tuesday FBI director Christopher Wray said China was seeking to become the world's only superpower with a "campaign of theft and malign influence".
Wray said in a wide-ranging speech to a think tank in Washington that the agency had more than 2,000 open investigations linked to China.
He also said Beijing's global anti-corruption programme, known as the "fox hunt", was a covert operation to force political opponents of the government to go home.
Zhao accused Wray of being "hijacked by anti-China forces" and dismissed his comments as "smears" and "lies" designed to shift the blame for US problems onto China.
Purchase the 100+ page China Internet Report 2020 Pro Edition, brought to you by SCMP Research, and enjoy a 30% discount (original price US$400). The report includes deep-dive analysis, trends, and case studies on the 10 most important internet sectors. Now in its 3rd year, this go-to source for understanding China tech also comes with exclusive access to 6 webinars with C-level executives. Offer valid until 31 August 2020.